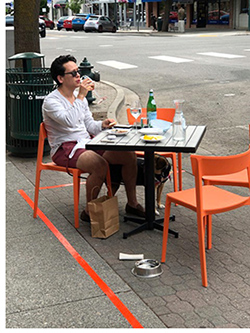 July 9, 2020 —
Downtown Walla Walla, WA, has reopened after the coronavirus shutdown, but with a number of new twists.
A block near Main Street is closed to traffic and is now a plaza for outdoor dining. Main Street itself will close one night a week. Sidewalk liquor consumption is now allowed, within limits. And the city has added parklets and overhead lighting.
Like downtowns everywhere, Walla Walla has been forced to think about how to bring back patrons while maintaining a safe social distance. Many of the ideas for the changes either came from merchants or were approved by them, says Kathryn Witherington, head of the Downtown Walla Walla Foundation.
Downtown business owners provided labor to support some of the concepts. And while some merchants worried about disruptions to parking patterns, Witherington says they agreed to give the new plan a try.
Perhaps the most dramatic change was closing a block adjacent to Main Street through the summer. The city used planters and other semi-permanent materials to create barriers. Witherington hopes the no-traffic street turns from an experiment into a permanent feature.
"It's a chance for us to test the concept," she says. "We're trying to test it in a way that can be part of our long-term plan. If the concept does totally fail, we can move it somewhere else."
The city received $1 million from the Coronavirus Aid, Recovery, and Economic Security (CARES) Act, and Walla Walla devoted $250,000 of that sum to the downtown redesign.
More on downtowns reopening, appears in the July issue of Downtown Idea Exchange. Click to learn more about Downtown Idea Exchange and other resources for revitalizing downtowns and commercial corridors.