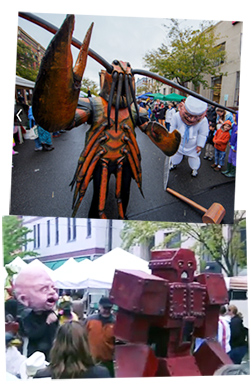 Creativity is filling city centers with whimsical creatures, exciting acts, and potential customers who flock downtown to see buskers perform.
The Ellensburg Downtown Association in Ellensburg, WA, networked with other busker festival producers and blended lessons learned with its own unique touches to create its highly successful Buskers in the Burg festival.
The unique event draws large crowds from surrounding areas to see sword swallowers, fire jugglers, and giant puppets! It is also a big day for local businesses.
"I had four merchants tell me it was their best Saturday of the year," says Carolyn Honeycutt, director of the Ellensburg Downtown Association. "And we have a ton of events in this community, so it's good to hear when something we're doing is really working for the merchants."
The full article appeared in our print edition. To always get the full story, read Downtown Idea Exchange.