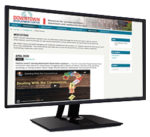 How one downtown is balancing outdoor drinking with family friendliness
— The North Carolina Retail Merchants Association pushed for the state's relaxation of alcohol laws, and cities jumped on board. Kannapolis has already approved a downtown social district. Wilmington and Charlotte are considering it. See the West Avenue Social District Maintenance and Operations Plan. ...
Downtown invests in ultramodern bathroom — Public restrooms pose a conundrum in downtowns everywhere. If you want to welcome visitors, you need clean commodes. But many a public washroom has been commandeered for uses that may make visitors uncomfortable. Read an archive article on public restroom solutions. ...
After five years, locally made branding campaign still hanging on — Back in 2016, New Haven, CT, launched a campaign to market locally produced goods by giving products a distinctive logo and promoting them under the Made in New Haven brand. Read an archive article on the launch of the Made in New Haven program. ...