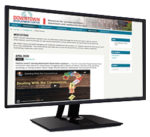 City's big bet on roundabouts pays off in the form of fewer accidents
— Hoping to reduce severe accidents involving pedestrians and cyclists, many downtowns have tested traffic roundabouts as an alternative to intersections with traffic signals. Read the Insurance Institute for Highway Safety study on Carmel's roundabouts. ...
Vaccination appreciation promotions — As the pandemic continued to spread this spring and summer, inducements to encourage vaccination were everywhere. Watch the Somerville vaccine discount video below. https://vimeo.com/524629927/fab95a9dc9 ...