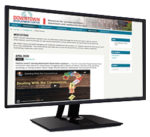 Billions are heading to states and cities; make sure downtown gets its share
— The federal government is directing hundreds of billions of dollars to states and cities, a windfall that has downtown leaders nationwide positioning themselves to get a piece of the pie. Watch presentations from the Pennsylvania Downtown Association and the National Main Street Center below. https://vimeo.com/555865910 https://www.youtube.com/watch?v=TmcDKb6sHcc ...
Six reasons to consider a form-based code — The little town of North Bend, WA, enacted a form-based code for its downtown in June, making it the latest municipality to embrace this type of zoning. See the Chicago Metropolitan Agency for Planning's guide to enacting a form-based code.  ...
Parking garage converted to apartments — The pandemic has accelerated two trends which significantly cut demand for parking. Both the increased use of app-based, ride-sharing services such as Uber and Lyft, and a rise in the number of people living within walking distance of their jobs have reduced demand. Learn more about the Broadway Autopark conversion.  ...