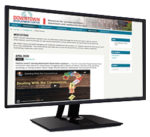 Four lessons from a marginal neighborhood's turnaround
— In San Diego, CA, a decades-long experiment to revitalize a long-neglected community has made notable progress. To learn more, read the report Activating the Power of Place: A Case Study of Market Creek Plaza.  ...
Small downtown uses multi-pronged approach to drive turnaround — Toccoa, GA, boasts a thriving downtown and a bustling historic theater. It has even carved out a niche as a setting for filmmakers looking for an iconic courtroom and Main Street. For more information, read the Archive Article, "Insights into successful pedestrian malls." ...