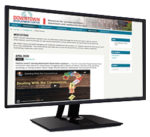 After turnaround, long-empty space becomes hive of activity
— For decades, a former furniture store and warehouse in downtown Swainsboro, GA, sat empty. Now it's a thriving hub that's home to an antique mall and a gallery featuring local artists. To find out more, see Lynn Brinson's presentation, "Diamonds in the rough: Transforming underutilized spaces into downtown anchors." ...
Locating bike share stations in crowded city centers — When new bike share stations were installed in downtown West Palm Beach, FL, they were located directly on city sidewalks. It's an option that's feasible so long as certain guidelines are met. Read the National Association of City Transportation Officials' guide to bike-share stations. ...
Connecting with public art — At the height of the pandemic when cabin fever had set in and people were weary of travel restrictions. Two European cities found a way to create safe and meaningful interactions. Digital portals were installed in public plazas in Vilnius, Lithuania and Lubln, Poland. Watch a video about the portals below. https://www.youtube.com/watch?v=TRvbxiCj79E ...