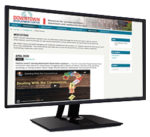 City uses array of strategies to create bike-friendly vibe
— Thanks to years of effort, biking is big business in Fayetteville, AR. The investment includes an expansive trail network, on-street cycling infrastructure, and ambitious biking initiatives. See Fayetteville's Active Transportation Plan. ...
Redefining formula restaurants — To preserve small businesses and local flavor, some cities are passing rules to limit the number of national businesses that can set up shop downtown. Read more about limiting formula businesses.  ...
Converting retail to residential — Many have predicted that a shift from retail to residential uses was a likely outcome of the pandemic. For more information, read the article, "As retail industry struggles, cities can encourage commercial-to-residential property conversions." ...