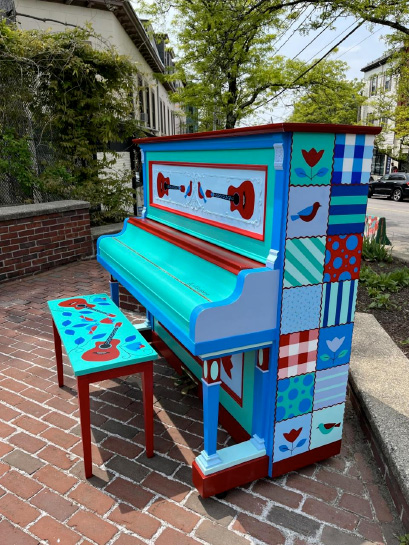 A "pawp-up" park for dogs downtown. A basketball court in a formerly unused underpass. Wayfinding signage drawn on sidewalks with chalk. Painted pianos in public parks. Not every downtown attraction needs to be a major undertaking. There's a real role for small, inexpensive projects.
Errin Welty, senior downtown development director at the Wisconsin Economic Development Corp., is a proponent of these modest initiatives. Creative small-scale placemaking strategies that can have an outsized impact — and help downtown leaders break through budgetary constraints and political opposition.
Compared to a permanent, expensive project, downtown leaders can more easily win approval to test a temporary project, Welty says. And because the investments are small and the approval process is minimal, downtown leaders can swiftly change directions.
One popular example of small-scale placemaking involves painted pianos. In Newton, MA, the Artful Piano Project costs just $8,000 a year. The initiative brings vibrantly painted pianos to parks and public spaces throughout the city.
Local artists decorate nine donated pianos, which are on display through the summer months. Visitors can admire and even play the pianos.
More on small-scale placemaking appears in the November issue of Downtown Idea Exchange newsletter. Click to learn more about Downtown Idea Exchange and other resources for revitalizing downtowns and commercial corridors.