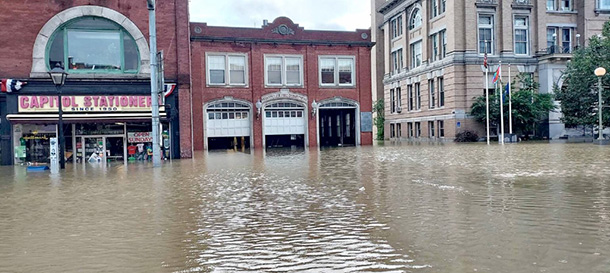 From wildfires to hurricanes to tornadoes, downtowns are feeling the effects of extreme weather events.
Summer flooding in downtown Burlington, VT, and Montpelier, VT damaged many buildings and forced some businesses to close for weeks or months.
"It's a giant puzzle, but it's solvable. It's going to take a lot of work, a lot of money, and a lot of time," Gov. Phil Scott told reporters after Vermont's floods.
To prepare for a disaster in your downtown, Manuel Ochoa of Ochoa Urban Collective suggests several steps. One of the most overlooked is ensuring that business and building owners have appropriate insurance coverage.
Most businesses and property owners carry insurance. But do they have the right coverage? he asks. Every major flood reveals property owners who didn't realize they were not covered. Owners of mortgaged buildings in flood zones are required to carry flood insurance, but it's optional for others.
Ochoa encourages downtown leaders to invite a local insurance agent to speak to downtown business and building owners about insurance coverage they should consider based on local risks.
More of Ochoa's tips appear in the October issue of Downtown Idea Exchange newsletter. Click to learn more about Downtown Idea Exchange and other resources for revitalizing downtowns and commercial corridors.