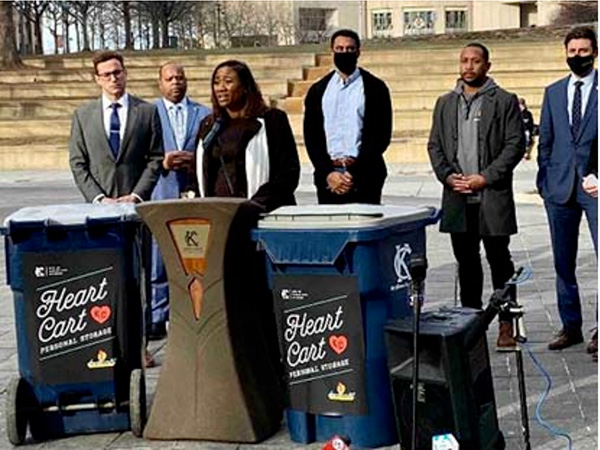 Most local shelters only permit clients to bring a single bag, forcing them to choose between leaving their belongings behind or staying elsewhere — often on downtown streets.
In Kansas City, MO, 30 gallon bins are providing storage for the homeless. The rolling bins are stored in a secure location and have been dubbed "Heart Carts." People may access their carts on a limited basis when caseworkers are on-site to coordinate other services or schedule appointments. The program is a partnership between the Downtown Council and Kansas City's Parks and Recreation Department.
"We have been listening to the community, and seeking innovative ways to help those in need," said Fifth District City Councilwoman Ryana Parks-Shaw, who chairs the Mayor's Houseless Task Force. "The Heart Cart symbolizes our concern, while solving a problem in a very practical way."
The city of Northampton, MA, takes a similar low-cost approach to providing storage space. Twenty-four gray storage lockers with keypads have been installed in a downtown garage. The lockers were funded by the city and are maintained by Manna Community Kitchen.
More on homeless storage appears in the February issue of Downtown Idea Exchange newsletter. Click to learn more about Downtown Idea Exchange and other resources for revitalizing downtowns and commercial corridors.