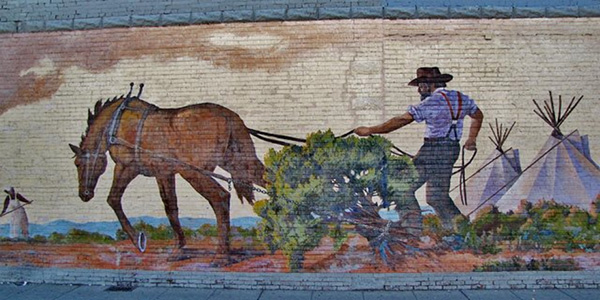 T-Mobile continues to provide grants to small and midsized cities as part of its Hometown Grants program. The mobile carrier recently released details about its latest round of 25 grant winners.
The awards of up to $50,000 went to recipients around the country with a wide variety of ideas. One theme: All the winners are towns or small cities outside of major metropolitan areas.
For example, in Toppenish, WA, the $50,000 grant will be used to repaint and restore the town&rsqup;s 78 murals depicting the town's history, one piece of artwork at a time.
The mural project debuted in 1989, but the works have fallen into disrepair over the decades. The Toppenish Mural Society aims to restore the murals. The group also wants to revive ots annual Mural-In-A-Day event, during which several artists gather to paint a mural in a single day.
Toppenish had played up the Western theme in its downtown, where dozens of murals recount the area's early settlement and culture.
But over time, the Mural Society lost momentum, the murals became weathered, and the annual Mural-In-A-Day faded.
In Guthrie, OK, the city paired a $50,000 grant from T-Mobile with an additional $50,000 federal grant to build a pop-up shopping park downtown. The park will serve as an incubator for entrepreneurs. And for the community, the downtown development is envisioned as a gathering space complete with pavilion, benches, picnic tables, and shade trees.
Shawnda Rooney, Guthrie's economic development director, said the park will create a path for new retailers to follow in transitioning from startup to established brick-and-mortar business. The town has struggled to keep establishments open in the downtown district.
The spring application period opens in January. The application can be found at https://www.t-mobile.com/brand/hometown-grants .
More on grant funding appears in the December issue of Downtown Idea Exchange newsletter. Click to learn more about Downtown Idea Exchange and other resources for revitalizing downtowns and commercial corridors.