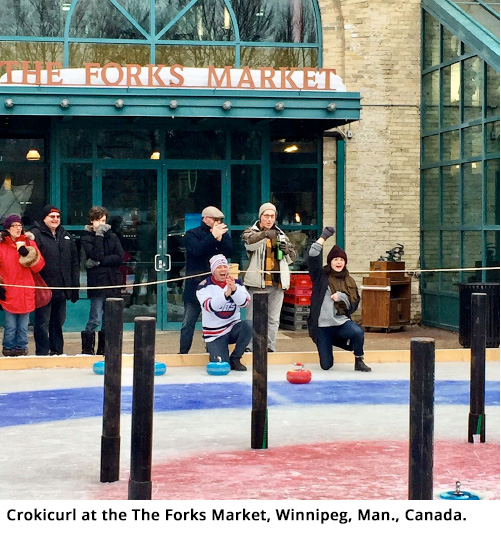 Memorial Square in Prince Albert, Sask., Canada, is drawing visitors downtown on even the coldest days. They are there to play crokicurl and maybe to linger for a warm drink and a little shopping.
The Prince Albert BID describes crokicurl as a combination of two iconic Canadian pastimes: the board game crokinole and the Olympic sport curling. The game is played by two to eight players who slide junior curling rocks toward the center of an icy bullseye.
Since its launch in 2017 crokicurl has gained attention and popped up in several cold-weather cities including Toronto, Ont. Canada, Minot, ND, Eau Claire, WI, and Altoona, WI.
In Altoona, city officials reached out to experts from several Canadian cities to learn more about the game before installing it on Front Porch Plaza in River Prairie Park. Now in its second year, the plaza is host to crokicurl family nights, a crokicurl league, and tournaments and championships.
The game's creator Public City Architecture, Inc. provides instructions for setting up and playing cokricurl.
The full story on bringing crokicurl downtown plus articles on updating "stale" zoning codes and creating a multi-pronged response to the pandemic appear in the March issue of Downtown Idea Exchange. Click to learn more about Downtown Idea Exchange and other resources for revitalizing downtowns and commercial corridors.