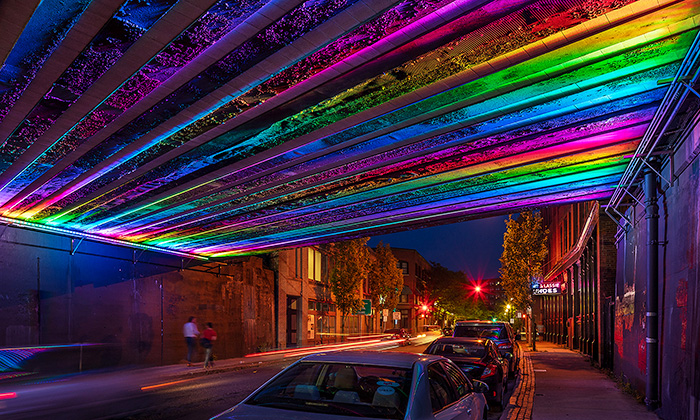 A series of public art projects — including innovative lighting installations in formerly dreary underpasses — has helped Lynn, MA, shake off its malaise.
In 2014, as part of a project to turn things around, the Massachusetts Development Finance Agency named the city as part of its Transformative Development Initiative.
The state agency hosted a series of community meetings to better understand the city's challenges and identify areas of opportunity. In those meetings, community members shared concerns about the underpasses at three locations.
But perhaps the most eye-catching move came when the nonprofit, Beyond Walls, created a public exhibition of vintage neon art pieces and a large-scale dynamic LED lighting project to activate an underpass downtown.
Lynn Lights has now illuminated 16,000 square feet of underpasses. The public art installations have proven that murals and lights can help reshape a downtown, says Al Wilson, chief executive officer of Beyond Walls.
More on Lynn Lights, creating downtown gateways, and converting commercial space to residential appears in the December issue of Downtown Idea Exchange. Click to learn more about Downtown Idea Exchange and other resources for revitalizing downtowns and commercial corridors.