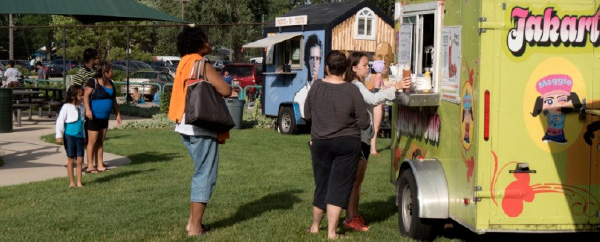 In Madison, WI, a new program will provide a financial safety net for food cart operators doing business downtown.
The program is among the winners in the latest round of pandemic-recovery grants from the National Association of City Transportation Officials (NACTO). The awards provide short-term funding and technical assistance to cities seeking to adapt streets in ways that help communities hit hard by COVID-19.
The program focuses on low-cost, quick-build design strategies, including bike lanes, bus lanes, slow streets, and outdoor dining areas.
In Madison, the number of licensed food carts dropped in the early days of the pandemic. To encourage food carts to return to city streets, Madison waived licensing fees and expanded areas where the carts can operate.
The city also launched a "guaranteed sales program." City officials and vendors establish a break-even figure for each cart. If the food cart fails to generate enough revenue to break even, the city helps cover the gap.
Carts offer a wide range of foods including pasta, empanadas, tacos, Indonesian barbecue, and Peruvian fare, all of which can be enjoyed out of doors on city streets and in parks.
More on NACTO grant winners and additional strategies to bounce back from the pandemic appear in the September issue of Downtown Idea Exchange. Click to learn more about Downtown Idea Exchange and other resources for revitalizing downtowns and commercial corridors.