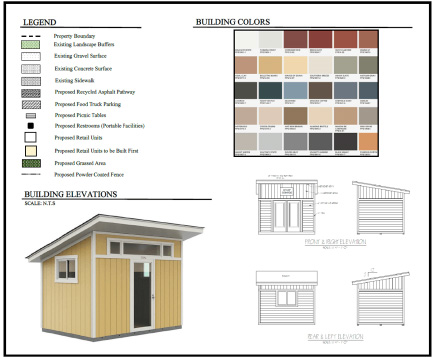 Following the lead of similar successful projects, Kuna, ID, will launch its own retail market village in June.
The village will consist of 12 small shops in re-purposed garden sheds. The sheds will surround a central green space with room for food trucks and small gatherings.

Lisa Holland, the city's economic development director, says that the market will help boost spending in the city and provide a platform for small business growth.
In a unique twist, the city is partnering with Idaho State University, volunteer contractors, and local high school students for a two-day event to build the retail sheds. The contractors will teach students construction skills on the first day and work with them on assembly on the second day. At the end of the event, there will be a recruitment/networking fair for students looking for summer jobs/internships.
The project is also supporting local veterans. Veterans who own small businesses will have first priority in being a part of the market village. The city will also reserve at least one unit each year for a veteran owned business.
The village will be open from 4 p.m. to 8 p.m. Fridays and 11 a.m. to 8 p.m. Saturdays. Shops have the option of being open Sundays from 11 a.m. to 4 p.m. Rent for the four month season (June-September) is $1,160. While that may seem low, the shops are just 120 square feet.
"We see great potential in the Kuna Market Village to help our home-based businesses, create a community gathering space, and bring additional vibrancy to downtown Kuna," says Holland.
More on Kuna Market Village, small-scale manufacturing, and wooing back shoppers, appears in the May issue of Downtown Idea Exchange. Click to learn more about Downtown Idea Exchange and other resources for revitalizing downtowns and commercial corridors.