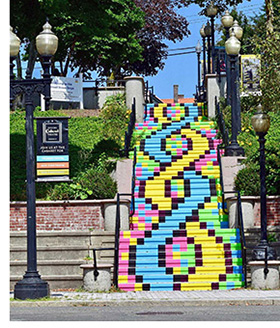 Skeptics think of downtown Bridgeport as a treacherous place. The Bridgeport Downtown Special Services District has a different perspective.
It sees downtown Bridgeport, CT, as "friendly," "flourishing," and "eclectic." To underscore that image, the district launched Colorful Bridgeport, a branding and marketing program that pitches the district as a vibrant place to live, work, and socialize.
The program succeeds by creating a memorable identity for downtown, and by pitching a clear value proposition. Bridgeport took to Instagram and other social media platforms to promote the brand. And art installations provide reinforcement on the ground — literally.
One prominent example is Broad Street Steps, a stairway painted in rich blues, yellows, and pinks.
In another project called People of Colorful Bridgeport, a series of portraits of downtown business owners, residents, educators, and community leaders was installed downtown. The portraits are also featured at the district website along with video interviews.
More on downtown branding appears in the January issue of Downtown Idea Exchange. Click to learn more about Downtown Idea Exchange and other resources for revitalizing downtowns and commercial corridors.