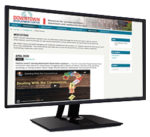 Grant program encourages targeted retail development
— One successful way to encourage specific businesses to open exactly where they are needed downtown is to tie financial assistance to those locations. The following materials support the Louisville, KY, program detailed in this article. Louisville South Fourth Street Retail Merchandising Plan Louisville Retail Grant Program application ...
Streets that work better for people, bikes, transit — The National Association of City Transportation Officials has released the Urban Street Design Guide. From bus rapid transit to bikeways and public seating, the guide showcases a new model for streets that work better for people, bikes, transit, and cities.Read it here. ...
Pop-ups becoming part of the annual holiday scene — When holiday pop-up programs first gained popularity, it was to add some vitality to vacant storefronts during the dark days of the Great Recession. However, the programs have proved valuable, not only in dressing up empty storefronts, but in boosting sales, drawing foot traffic downtown, generating media attention for the city center, and incubating new permanent businesses. For background on pop-up programs read "Pop-up shops make downtown more festive," from the December 2011 issue of Downtown Promotion Reporter. ...