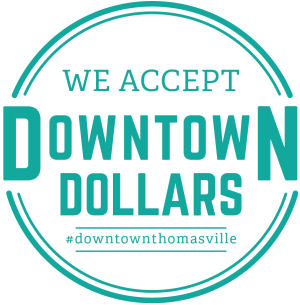 Many downtowns offer gift certificates or custom currency that can be redeemed with local eateries and merchants. The offerings are typically limited to a handful of locally owned cafés, restaurants, and gift shops.
But in Thomasville, GA, Downtown Dollars are so widely used that a consumer might be able to survive on local currency alone. Downtown Dollars are good at 150 merchants — an impressive level of uptake for a city with a population under 20,000.
The roster includes the usual businesses — coffeeshops, boutiques, salons, a florist, a chocolatier, a cookie shop, an antique store, and a gift shop. But Downtown Dollars are also accepted at a Thomasville grocery store, a gas station, a pharmacy, and even a tire store.
Acceptance of the currency is so widespread that the City of Thomasville pays end-of-year bonuses to the municipality's 400 workers in Downtown Dollars, says April Norton, managing director of marketing and communications at the city.
Local school districts also give Downtown Dollars to teachers as Christmas gifts. Private employers use the certificates to pay year-end bonuses, too.
"For many of these employees, maybe it's the first time they've come into our downtown," says Norton.
More on the Downtown Dollars program plus articles on turning a white elephant into a downtown anchor, and on updating old wayfinding systems appear in the May issue of Downtown Idea Exchange. Click to learn more about Downtown Idea Exchange and other resources for revitalizing downtowns and commercial corridors.