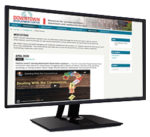 The smart math of mixed-use development
— This months Perspectives column was based on the work of Joseph Minicozzi, which originally appeared at the Planetizen website. You may read the original article The smart math of mixed-use development now. ...
Affordable housing crowdfunding pilot program — Our March article New online platforms support downtown projects includes information on a crowdfunding pilot program in Ottawa, ON, Canada. Click here to read the white paper Crowdfunding Affordable Housing. ...
Work space, programs, and events support start-ups — This month, we reported on the Alliance for Downtown New York's business incubator, Hive at 55. You may also find our recent article Cowork incubators foster start-ups and fill vacant spaces useful. ...
New fund for arts businesses — The City of San Jose, CA, has established a Creative Industries Incentive Fund that provides financial support to commercial businesses rooted in the arts. View the program application and guidelines. ...
Tapping into the office-worker market — Despite the barrage of information on shoppers moving their spending online, a recent research report by the International Council on Shopping Centers shows a healthy amount of spending by office workers as well as opportunities for retailers, restaurants, and service businesses. Read the report Office Worker Retail Spending in a Digital Age. ...