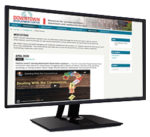 It's time to rightsize old streets to better meet the needs of new users
— Rightsizing is the process of reallocating street space to better serve the full range of users. See the FHA's Summary Report on the impact of rightsizing on crashes. ...
Art installations create support for more art — In Durango, CO, the city is learning that the more public art it has, the more public art people want to see. Donations of art, as well as pieces on loan, are multiplying throughout the community. View the Durango Art Donation Agreement. ...
Gen Y still likes to shop in stores — Despite being far more tech savvy than previous generations, Generation Y has not traded shopping in stores for online purchasing says a new report from the Urban Land Institute. ...
Video contests generate unique perspectives and low-cost marketing materials — Rather than paying staff or filmmakers to spend hours creating promotional photographs, videos, and sound bites, some downtown organizations are sponsoring video contests and then using the entries for future marketing efforts. The October issue of Downtown Promotion Reporter shows readers how. Click here to see a sample video contest entry form. ...
Outdoor fitness zones gain popularity in city centers — Increasingly, city centers are exploring ways to keep residents healthier and to contribute to their quality of life, which in turn creates a more vibrant downtown full of active people. Communities across the nation are finding creative way to fund fitness zones, and installing them in a variety of configurations, from accessories to existing fitness trails to functional public art. ...