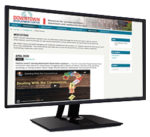 Successful crowd control enhances downtown events
— The September issue of Downtown Idea Exchange highlights key practices from the Police Executive Research Forum report, Managing Major Events: Best Practices from the Field. Click the link to read the full report. ...
Parking plan maximizes on-street parking for downtown customers — The focus of the Downtown Parking Solutions Project in Hillsboro, OR, was two-fold: first, to identify ways to better manage Hillsboro's existing parking situation, and second, to examine long-term strategies that would address downtown density going forward. The Executive Summary from the project report is online here. ...
Mushing is not just for huskies — March 1 is the first day of the Iditarod, a 1,100-mile-long dogsled race from Anchorage to Nome, AK. Some downtowns are creating races of their own — using shopping carts and teams of human mushers. Three events were profiled in the September issue of Downtown Promotion Reporter. See the map and rules from the Partnership for Downtown St. Louis Idiotarod. ...
New market draws weekend customers downtown — By offering a wide range of fresh and prepared foods, varied programming, areas for gathering and dining, and cross promoting with downtown events and main street businesses, New Rochelle, NY's Grand Market is a blueprint for success. ...
Good communication and lots of promotions keep downtown bustling during construction — Faced with a lengthy and disruptive downtown construction project, the Main Street program in Ogallala, NE, was determined "not merely to cope but to make the experience a positive one." View some of the many collateral materials used during the Downtown Construction Ahead — So What! campaign. Construction Calendar Construction Details Alternate Routes ...