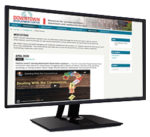 Saving historic theaters is an economic development mission in many communities
— When the functions of a theater cannot be saved, the building can still be repurposed in ways that revitalize downtown. For example, the shuttered Fox Theater in Hays, KS, was reopened as an event space. Read the archive article from Downtown Idea Exchange. ...
Partnerships enhance annual retail recruitment event — The Downtown Committee in Syracuse, NY, is attracting new businesses to the city center through an annual event that highlights the resources available to potential retailers. See the Retail Recruitment Event brochure. ...
Leadership programs benefit businesses and communities — Offering a leadership training program can not only provide downtown businesses with more skilled employees, but the community with stronger civic leaders, and with skilled volunteers to complete city center projects. View the Leadership Frederick County Leaders on Loan program application. ...
No downtown organization is an island: Maximizing partnerships — Learn how your downtown organization can maximize the potential for partnerships. ...
Best practices for food truck integration — A new report from the National League of Cities shows municipal officials how they can incorporate food trucks into the city's existing business community. ...
Downtown organization increases event schedule by sponsoring rather than producing events — View examples of the application form that is the first step in requesting funds and learn about some of the creative events. Application: Soundwalk Application: Film and Music Festival Application: Oktoberfest ...
Creating a successful downtown film festival — The Traverse City Film Festival in Traverse City, MI, has been going strong for nine years. See the organizations FAQ Sheet and details on its accomplishments. ...
Creative solution to need for public event space — A stunning example of adaptive reuse comes from the small town of York, MS. Lacking a central gathering area and performance space the city decided to create one on the site of a dilapidated single-family house. ...