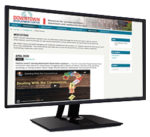 Recruitment program offers to pay down student loans
— The rise of remote work has inspired localities to pay remote workers to move in from out of state. Now Van Wert, OH, is joining that group. See details of the Van Wert County Foundation's Learn and Return program. ...
Nonprofit buys dozens of buildings in crumbling downtown — Following half a century of decline, the downtown in Van Wert, OH, is getting a major makeover. Watch a local television station's overview of Van Wert's project. ...
Light art enlivens downtown during winter — Cary, NC, just wrapped up another year of temporary outdoor light and technology installations downtown. Read about the Glow. ...
Getting back to the office — To better understand downtown workers' attitudes toward work and the city center, the Greater Des Moines Partnership commissioned a survey of 5,200 people from 18 businesses in the area. Read the initial summary report. ...