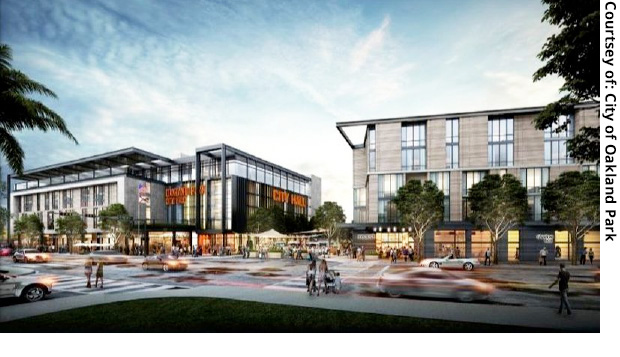 As part of a redevelopment of their downtowns, two mid-sized cities are making an unusual move: They're giving up the traditional model of a city-owned parcel housing City Hall.
Instead, the cities are spurring downtown redevelopment projects by partnering with private developers. In the process, they're moving city administrative offices into mixed-use developments.
The cities of Columbia Heights, MN, and Oakland Park, FL, both saw compelling reasons to make the change.
Oakland Park's plan to remake 6.6 acres of downtown includes moving city offices into a mixed-use development, where the city will be a tenant.
The idea of a city renting rather than owning is unusual, and the proposal met some initial resistance, City Manager David Hebert acknowledges. But he successfully made the case that giving up a city-owned City Hall would make the downtown redevelopment project more attractive to developers.
The city will lease office space in a new mixed-use building downtown, providing an incentive to the new landlord.
More on the wooing office workers back, encouraging bicycling, and selling city hall appears in the August issue of Downtown Idea Exchange. Click to learn more about Downtown Idea Exchange and other resources for revitalizing downtowns and commercial corridors.