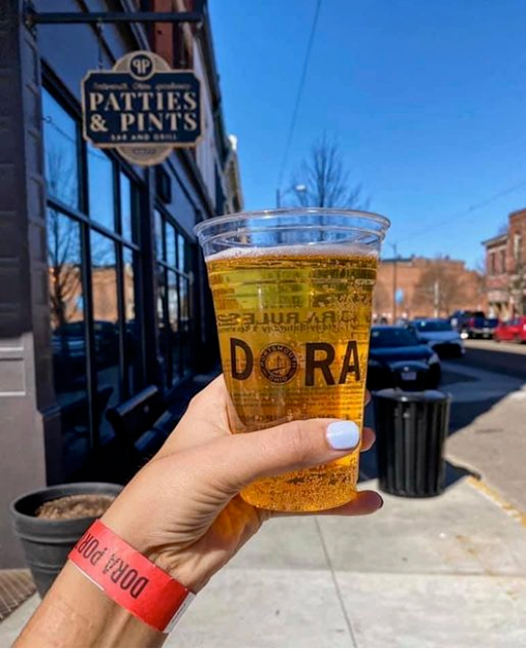 New Orleans' French Quarter was once the rare entertainment district that allowed revelers to drink while they strolled public streets.
However, many small cities not known as party towns are getting in on the act. City officials and downtown leaders see the new wave of public consumption districts as a way to draw visitors back to areas that they avoided during the depths of the pandemic.
In one recent example of a city loosening its liquor laws, Portsmouth, OH, has begun allowing visitors to drink outside in a Designated Outdoor Refreshment Area (DORA). Portsmouth joins dozens of Ohio cities, including Middletown, Oxford, and Hilliard, in creating downtown zones that allow for the sale and public consumption of alcohol.
The city's open-container area is home to such watering holes as Patties and Pints, the Portsmouth Brewing Company, and the Port City Pub. To participate in DORA,restaurants must have an alcohol permit, and submit plans for sanitation and signage.
Portsmouth allows outdoor alcohol consumption in its DORA from noon to 10 p.m. Fridays through Sundays.
A $1 wristband grants people the right to drink within the boundaries of the DORA. And restaurants within the DORA agree to let wristband wearers use their bathrooms, even if they purchased their beverages elsewhere.
Even merchants don't mind visitors bringing their beers with them. "I've had quite a lot of people come in here with their drink and shop," says Gary Kenyon, owner of Rivertown Antiques.
More on outdoor alcohol consumption, the American Rescue Plan, and funding a clean and safe initiative appears in the July issue of Downtown Idea Exchange. Click to learn more about Downtown Idea Exchange and other resources for revitalizing downtowns and commercial corridors.