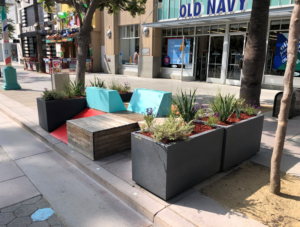 When the Third Street Promenade in downtown Santa Monica sought insights on how to keep visitors coming downtown and lingering longer, the answers were clear: More seating, more color, and more interactive elements. Central to those changes has been the addition of sleek, modern, self watering planters. The planters are used to define seating areas, soften long grey stretches of sidewalk, and bring color and texture to the promenade.
Similar self watering planters have been used in other downtowns to improve safety by buffering pedestrians and diners from vehicles, defining the downtown area, guiding pedestrians, adding pollinator and bird habitat, and enhancing the overall appeal of the area.
To see the Third Street Promenade transformation visit EarthPlanter.