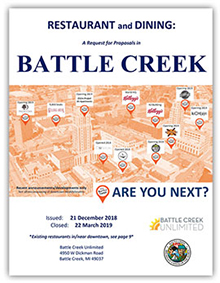 In Battle Creek, MI, generous incentives are attracting tenants to the downtown district.
Battle Creek Unlimited Inc. offers subsidies of as much as $200,000 to breweries and restaurants. New Holland Brewing Co. landed the first incentive; it used the money toward a $1 million renovation of an 18,000-square-foot building. The total project is worth $5 million, says Joe Sobieralski, president and chief executive of Battle Creek Unlimited.
The sheer size of the incentives attracted media attention. Local television stations and newspapers jumped on the story, exposing the subsidies to a wide audience. And Sobieralski appeared regularly on local radio stations to talk about the incentives and his vision for downtown.
Battle Creek is far from alone in dangling incentives to downtown tenants, particularly microbreweries, which are seen as the hallmark of a thriving, millennial-friendly urban core. In Marlborough, MA, the city offered microbrewers $25,000. North Miami Beach, FL, markets incentives of up to $200,000 to microbrewers.
Restaurateurs and brewers who win the subsidies must reach milestones regarding jobs and investment, but recipients ultimately can decide how they will deploy the funds.
"We are trying to make it as easy and valuable as possible for them," Sobieralski says. "The goal is to take a facility that's dilapidated and underused and encouraging that the dollars be used toward the real estate end so that the incentive funds will ultimately have been used to improve the facility. We are making sure that the dollars stay with that facility." That way, even if the incentivized business leaves at some point, the property will be improved, Sobieralski says.
More on encouraging sidewalk dining, public art, and helping businesses survive road work appears in the November issue of Downtown Idea Exchange. Click below to learn more about Downtown Idea Exchange and other resources for revitalizing downtowns and commercial corridors.