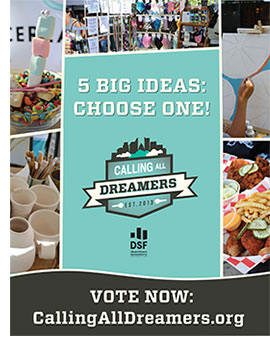 Valerie Marmone once ran a clothing boutique in Sacramento, so she knows firsthand how hard it is to operate a retail business in an era of tight margins and online shopping.
In her post-entrepreneurial career, Marmone works as vice president of business development at the Downtown Sacramento Partnership. In that role, she runs the annual contest that solicits business plans from would-be retailers.
The contest, Calling All Dreamers, gives one promising retailer a grand prize of $10,000 in cash plus more than $100,000 in services.
Since the contest began in 2013, the competition has drawn a steady stream of entrants who submit detailed business plans and video pitches. In fact, Marmone is surprised by the steady flow of ideas from budding entrepreneurs.
"I keep thinking the well is going to run dry," Marmone says.
Instead, there's a fierce competition for the top spot. Marmone says contest organizers pick the top 10 or 11 entrants each year and pair them with mentors from the Service Corps of Retired Executives (SCORE).
The competitors work with their mentors to polish their packages, and then the entrepreneurs submit revised plans and new videos. From there, the entrants are scrutinized by SCORE judges, who question the entrants and poke holes in their plans.
After the field is winnowed to five finalists, the contestants make their pitches in a Shark Tank-style round of presentations with public voting.
Through the first six years of the contest, finalists and winners launched 22 businesses, creating 100 jobs and filling 25,000 square feet of downtown retail space.
More on business plan competitions appears in the October issue of Downtown Idea Exchange. Click below to learn more about Downtown Idea Exchange and other resources for revitalizing downtowns and commercial corridors.