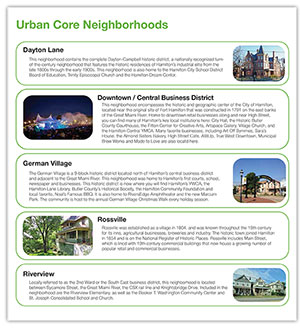 With many smaller cities struggling to lure skilled workers, a few downtowns are trying something new: They're offering to help people pay down their college loans if they move to town.
Last year, Hamilton, OH, launched a Talent Attraction Program that offers up to $10,000 to workers who earned college degrees within the past seven years and have at least $5,000 in student debt.
The program is funded by a foundation that for decades has given scholarships to promising pupils from Hamilton's high schools, only to see those students leave for college and never return.
"We're giving away a lot of scholarships, and our students are going away to school," says Katie Braswell, vice president of the Hamilton Community Foundation. "Nobody is really trying to bring them back."
The Hamilton Community Foundation's program is designed to lure young residents into one of five "urban core" areas, including downtown.
Initially, the program was capped at $5,000. But in a nod to the growing financial burden carried by many recent graduates, the foundation increased the limit to $10,000 in its second year.
More on wooing residents with student loan assistance appears in the October issue of Downtown Idea Exchange. Click below to learn more about Downtown Idea Exchange and other resources for revitalizing downtowns and commercial corridors.