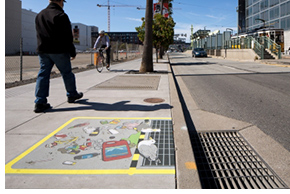 In the annals of cultural assets, a quilting museum and a public mural project might sound like an unremarkable pair of attractions. But Paducah, KY, has combined those two resources with local pride and a relentless place-building campaign to turn itself into a widely recognized arts hub.
"The city really sees the value of creativity and culture," says Laura Oswald, director of marketing at the Paducah Convention & Visitors Bureau. "Authentic culture is what differentiates us, is what sets us apart."
The city's first building block was the National Quilt Museum, which opened in 1991. A second turning point for Paducah came in the late 1990s, when an unsightly floodwall was turned into a public mural project. The floodwall was built by the U.S. Army Corps of Engineers after a devastating flood in 1937.
While the infrastructure was necessary to keep downtown dry, it didn't do much on the place-making front. Instead of water views of the Ohio River, downtown was marked by a utilitarian, 14-foot-high concrete wall.
The city adapted by creating Paducah Wall to Wall, a collection of 52 murals which show the city's past.
Next, the city worked to attract more resident artists downtown. The artist-relocation program was so successful that dozens of artists moved to Paducah, and the properties available for creative types sold out.
More on Paducah's arts-based renaissance, parking rates, and smart garbage cans appears in the September issue of Downtown Idea Exchange. Click below to learn more about Downtown Idea Exchange and other resources for revitalizing downtowns and commercial corridors.