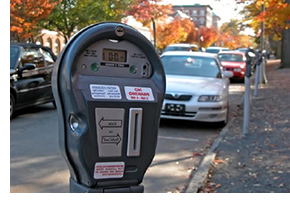 Many cities set downtown parking rates and then forget about them for years. A few of the largest cities have embarked on ambitious parking plans that rely on wireless sensors and real-time data to adjust prices throughout the day.
Seattle chose a middle route. The city carefully studies parking patterns and then updates rates once a year, but it hasn't taken the additional step of gathering instant data from its 12,000 paid parking spots.
"It's a good model for cities, because it's low-tech and relatively low-cost," says Mary Catherine Snyder, parking strategist at the Seattle Department of Transportation.
Each spring, Seattle's consulting firm dispatches researchers to count cars in every block, every hour from 8 a.m. to 10 p.m. Based on those results, Seattle adjusts hourly parking rates. Seattle's fees range from 50 cents to $5 an hour.
Prices are based on neighborhood and on time of day. While Seattle doesn't collect $5 an hour before noon, rates for many downtown spots rise to $5 an hour. And at night, some business districts with popular restaurants or bars see $5 rates.
The idea isn't to gouge people who pay for on-street parking. "We're not set up to maximize revenue," Snyder says. "We have lowered rates just as often as we have raised rates."
More on parking, public art, and smart garbage cans appears in the September issue of Downtown Idea Exchange. Click below to learn more about Downtown Idea Exchange and other resources for revitalizing downtowns and commercial corridors.