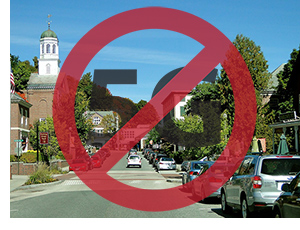 Add little Whitefish, MT (est. pop. 7,070), to the growing list of municipalities worried about an influx of 5G wireless antennas marring picturesque downtowns.
Mirroring a national pushback against the new generation of "small-cell" wireless antennas, officials in Whitefish aren't keen about the prospects of new devices popping up in a downtown known for its mountain vistas and buildings that date to 1919.
"Our big concern is aesthetics," City Attorney Angela Jacobs says. "They can be extremely ugly. We're very protective of our downtown."
Until now, wireless service has been delivered by "macrocell" towers, those unsightly structures that deliver signals for a few miles. But with millions of Americans streaming video on their smartphones, the old distribution network is running out of space.
A new generation of wireless infrastructure relies on small-cell transmitters, which include an antenna about the size of a backpack and a base as large as a refrigerator. The antennas are typically mounted on roofs or utility poles.
The National League of Cities notes that deploying 5G antennas will bring many upsides. Small-cell facilities promise to boost the capacity of mobile broadband networks. This improved service will let cities tout their economic competitiveness and their tech-friendly bona fides.
5G networks also will pave the way for "smart city" and Internet of Things applications. What's more, with 80 percent of 911 calls placed by wireless phones, robust wireless networks are crucial for public safety.
Whitefish residents have been largely skeptical of the benefits of stronger cell signals. "Certainly, there is an interest in having better Internet," Jacobs says. "But what we heard from citizens was, 'We don't care about faster Internet. We're concerned about the health effects and the effect on our downtown.'"
More on conflicts over 5G equipment, regulating chains, and street painting festivals, appears in the July issue of Downtown Idea Exchange. Click below to learn more about Downtown Idea Exchange and other resources for revitalizing downtowns and commercial corridors.