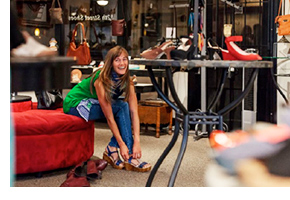 June 13, 2019 —
The business of retailing has been roiled by rapid changes in technology and society. The evolution is changing the way stores and restaurants operate. While these trends have proven difficult for many malls and suburban shopping centers, there's some good news for downtown leaders: The shifts in retail play directly into the strengths of Main Streets.
Many of those shifts are illustrated in the Downtown Bellingham Retail Strategy. Among them:
Smaller is better. Traditional retailers such as Macy's and JCPenney struggle to make money from the cavernous stores they built in the 1980s and 1990s. Today, many store operators are embracing smaller footprints.
Shorter lease terms hold greater appeal. Rather than long lease terms with options to extend, operators are choosing to open pop-up shops for as little as a month or two, with simple, low-cost build-outs.
Health, wellness, and beauty are hot categories. Forget Radio Shack and Sears, the mall staples of yesteryear. These days, shops selling makeup and skincare products are hot.
Ethos and purpose matters. Fostering community is a big part of 21st-century retailing — a trend that resonates far more authentically in a quaint downtown than in a cookie-cutter mall.
Clicks should be combined with bricks. Amazon gets all the attention these days. But rather than opting solely for traditional retail or ecommerce, savvy operators see their online and physical presence as mutually reinforcing.
Experience is king. Thriving retailers offer experiences beyond mere shopping.
More on Bellingham's retail strategy appears in the June issue of Downtown Idea Exchange. Click below to learn more about Downtown Idea Exchange and other resources for revitalizing downtowns and commercial corridors.