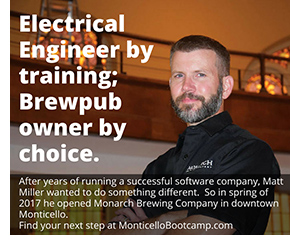 To combat high vacancy rates, Monticello, IL, launched an entrepreneurial boot camp to coach would-be business owners about setting up shop downtown.
Instructors are volunteers, and each week focuses on a crucial part of operating a business. There's an accounting course one week, a finance class the next. Courses also focus on legal issues and marketing. The topics are the building blocks of a business plan, and by the end of the course, astute pupils should have a viable proposal, says Callie Jo McFarland, director of community development for the city.
Classes are free to anyone who wants to attend, and courses draw 20 to 35 potential entrepreneurs. In the fifth and final week, students present their business plans in 10-minute pitches to a three-person panel of judges. In Shark Tank style, the judges pick a winner who receives $5,000 to spend on rent or utilities. Winners have included Monarch Brewing Co., a brewpub and farm-to-table restaurant, and Hartfield Book Co.
To receive the grant, startups must locate in Monticello and open within six months of the business plan competition. Winners also must be open 40 hours a week, and, to avoid burnout, the entrepreneur must have plans to hire at least part-time help.
The boot camp courses proved simple to set up, and McFarland acknowledges she's surprised that the program continues to thrive long after downtown Monticello's vacancy crisis has passed.
Details on Monticello's Boot Camp appear in the April issue of Downtown Idea Exchange. Click below to learn more about Downtown Idea Exchange and other resources for revitalizing downtowns and commercial corridors.