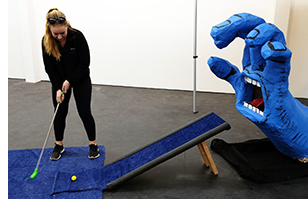 A few years ago, the Downtown Association of Santa Cruz decided to eliminate big events that attracted large numbers of visitors but also blocked traffic and disrupted business.
Downtown leaders in the California city still wanted to bring visitors to the business district, however, so they shifted their focus to smaller gatherings centered around wine and beer. Those events worked well at attracting the over-21 crowd, but they excluded under-21 visitors.
So the Downtown Association needed another idea. The city's proximity to the annual Pro-Am golf tournament at Pebble Beach inspired the 2018 Downtown Santa Cruz Pre-Am Mini Golf/Art Festival.
The February event — after the holiday shopping season, and before Santa Cruz's summer beach season — lets visitors play nine mini-golf holes designed by local artists, engineers, and tinkerers. A skate shop hosted a skate-themed hole. The breezeway outside a brewpub hosted a hole inspired by the gopher in the movie Caddyshack. A clothing boutique was the site of a hole based on Alice in Wonderland.
The mini-golf event encouraged visitors to go inside stores they might not visit otherwise, while keeping city streets clear.
More on the mini-golf event appears in the January issue of Downtown Idea Exchange. Click below to learn more about Downtown Idea Exchange and other resources for revitalizing downtowns and commercial corridors.