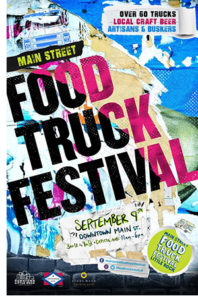 The first Main Street Food Truck Festival, hosted on a Saturday in 2011, started off modestly. About 2,500 people came out to sample fare from 15 food trucks. Despite the small numbers for the inaugural event, organizers knew they had a winner. "By mid-afternoon, all the trucks had sold out of food," says Gabe Holmstrom, executive director of Downtown Little Rock Partnership.
Organizers hosted the event again in 2012, and the second annual event brought in 6,000 people and 30 trucks. By 2016, the event was a bona fide hit, drawing 40,000 people to visit 60 food trucks.
Now Little Rock's Food Truck Festival is a signature event for downtown. Holmstrom and his staff begin planning eight or nine months in advance, and the festival has signed up sponsors such as the local Budweiser distributorship, Sprint, and Centennial Bank.
"It is a major production — 300 volunteers, 60 food trucks, and 40,000 of our closest friends come out," Holmstrom says.
While the Food Truck Festival takes place just one day a year, it has helped spur a revival along Main Street, which now has more than half a dozen restaurants.
The food truck festival's popularity, Holmstrom says, proved to restaurateurs "that people would come downtown and would spend money downtown."
More on Little Rock's Food Truck Festival appears in the October issue of Downtown Idea Exchange.
Learn more about Downtown Idea Exchange.