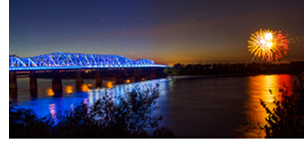 Cities large and small are using public light displays to spark interest in downtowns.
In one of the splashiest and most expensive new displays, Memphis, TN, is in the midst of a $14 million project to re-light the Hernando DeSoto Bridge across the Mississippi River.
At the more affordable end of the spectrum, Melbourne, FL, spent $9,000 to illuminate the large oak tree near the Historic Downtown Melbourne arch, the landmark that serves as the entry to the city's New Haven Avenue commercial corridor.
In Memphis, installation of the privately funded project began in June and is scheduled for completion in late October, according to Memphis Bridge Lighting Inc., the nonprofit organizing the Memphis' Mighty Lights project.
Memphis already projects a light show on the Harahan Bridge and Big River Crossing, a span south of the Hernando DeSoto Bridge. Nightly light shows take place every hour from dark until 11 p.m., and the color schemes can change with the seasons or coordinate with Fourth of July fireworks shows.
The new project means visitors will see light shows on two bridges leading into downtown Memphis.
More on public light displays appears in the September issue of Downtown Idea Exchange.
Learn more about Downtown Idea Exchange.