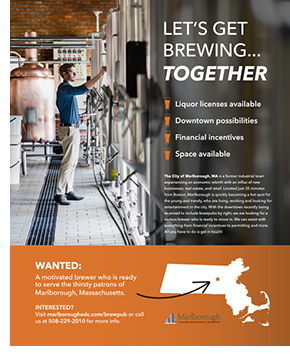 After years of begging brewpubs to open in downtown Marlborough, MA, the city's marketing effort is showing results.
The Marlborough Economic Development Corp. (MEDC) began targeting microbreweries in 2014, says Executive Director Meredith Harris.
It was only after the city began dangling incentives — and advertised them in Beer Advocate magazine — that brewers came calling.
Harris says her conversations with microbrewers convinced her that startup costs were a significant obstacle.
A federal permitting process requires brewpubs to sign a lease before they can win permission to operate, she says, a regulatory obstacle that can create six months of rent expenses without revenue.
So the MEDC created a program that covers a year of rent for brewpub owners, up to $15,000. The city also covers half of equipment expenses, up to $10,000.
Marlborough's incentives are beer money compared to those being offered by North Miami Beach, FL. The city's Community Redevelopment Agency (CRA) is offering grants totaling up to $500,000 to help brewpubs with startup costs.
That money is broken down into separate grants of $200,000, $200,000 and $100,000 for distillers, refrigerators or boilers. The city will buy the equipment and lease it to microbrewery operators for just $1 a year.
More on attracting breweries appears in the September issue of Downtown Idea Exchange.
Learn more about Downtown Idea Exchange.