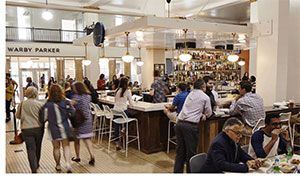 For landlords, developers, and other downtown leaders, food halls have a strong appeal. By combining half a dozen or more eateries under one roof, food halls attract consumers and drive foot traffic.
A typical food hall might combine a taco place, a gourmet burger joint, a noodle shop, a cold-brewed coffee roaster, and a bar serving microbrews under one roof. It's the sort of experience that can't be replicated on Amazon.
Birmingham, AL, is currently home to an 18,000-square-foot collection of gourmet eateries. The food hall was the brainchild of Bayer Properties, a developer that had struggled to find a tenant for the ground-floor of the long-vacant Pizitz department store.
The food hall is just one more sign of a rich dining scene in a city David Fleming, head of RevBirmingham, calls "a culinary hotbed."
He argues that a food hall can play an especially important role in validating an up-and-coming downtown.
For a downtown that's serious about recruiting employers in technology and other high-paying industries, a food hall serves as one more sign that Birmingham offers a competitive quality of life.
"What the food hall does for us is to help us attract and retain talent," Fleming says.
More on the Pizitz Food Hall and others, appears in the August issue of Downtown Idea Exchange.
Learn more about Downtown Idea Exchange.