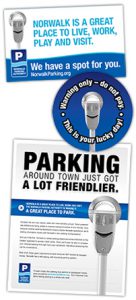 Over the past four years, the Norwalk Parking Authority in Norwalk, CT, has transformed negative public perceptions about parking while also improving the motorist experience and increasing revenues.
Rebranding the parking system, lighthearted promotions, and art in parking garages all helped to spread the word about the ease of downtown parking.
A "Mr. Smiley" parking meter mascot was created, and integrated into all of the authority's communications, including general advertising in area print and online media, and environmental media/signage which includes kiosks, train platforms, parking facilities, and wayfinding signs.
An interactive and mobile-friendly website was also created, as was a Facebook page that is updated on a regular basis. Regular e-communications with permit holders were initiated, and whimsical warning stickers were created to give first-time offenders a gentle reminder of parking regulations.
The full article appeared in our print edition. To always get the full story, read Downtown Idea Exchange.