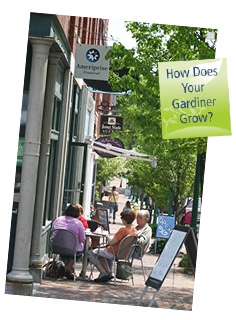 A new initiative in Gardiner, ME, is encouraging businesses with a proven track record in other communities to open new downtown locations. Two years of planning and consideration went into the program design, which is being hailed as, "a model for redevelopment efforts" statewide.
Businesses accepted into the program are eligible for a number of financial incentives, along with a pledge of support from larger existing businesses in the area.
The Gardiner Growth Initiative launched in April. By mid-May, the first deal had been signed, with a donut shop with a wholesale operation and several retail locations. "We're really happy about that," says Patrick Wright, executive director of Gardiner Main Street. "We've passed on two businesses. There are a bunch of others interested. We are actively getting out there and having conversations as much as we can. For being only a couple of months into it and already having our first one, that's really good. And I suspect having one new business to show for it will have a domino effect."
The full article appeared in our print edition. To always get the full story, read Downtown Idea Exchange.