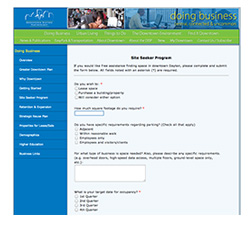 The Site Seeker program in Dayton, OH, allows the Downtown Dayton Partnership to provide a valuable service to members while also attracting new businesses to the city center.
Tenants interested in moving downtown fill out an online form which asks how much square footage the business seeks, whether the owner wants to lease or buy a space, and what the unique needs of the business owner might be.
"We follow that up with a phone call because a conversation is helpful in understanding the prospective tenant's other space needs," says Scott Murphy, director of business development for the Partnership.
"We package all of that information in an RFP format and distribute it electronically to leasing agents. We give them a little time to respond back to us, and when we get those available listings back, we sit down with the prospective tenant and talk all of them through. Based on their interest, we can set up tours and help them connect with particular properties."
Through the third quarter of 2013, the Partnership had conducted 47 searches for prospective tenants.
The full article appeared in our print edition. To always get the full story, read Downtown Idea Exchange.